June 26th, 2009 by LViehl
(I'm cross-posting some of the content of this post from my author blog, where I'm also giving away some books today.)
When I'm not writing books, I'm collecting them, and at one point my personal library numbered over six thousand books. After too many years of hauling a jillion boxes of books every time we moved, I finally said enough and trimmed down my collection to a more manageable fourteen hundred or so, and donated the rest to various libraries and schools.
At first it was a wrench, parting with so many great reads, until I thought about it. Over time I'd gotten into the habit of keeping every good book I read, and while they all had their particular merits, most were stories I didn't plan on reading again — there simply wasn't enough time. As part of my collection they were simply going to sit and gathering dust; giving them away gave them a chance to be read by someone else.
I also instituted a new collecting rule for myself, to keep my library from growing out of control: for every new book I want to keep, I have to remove one from my collection. That's why the new copy of Catcher in the Rye I bought last week as my personal protest over J.D. Salinger's current court battle will replace an older copy that I'll donate at the end of the month with the rest of my non-keepers to the local public library.
Because of the limitations I've imposed on myself and my library, there are only a handful of authors whose complete works I collect. Most of these writers are gone now, so their shelves remain static (Shakespeare, Jane Austen, Charlotte Bronte, Laura Ingalls Wilder) while others never wrote more than one book (Jetta Carleton, Harper Lee, Sylvia Plath, J.D. Salinger, Oscar Wilde) which also helps. As for collecting the works of living authors who are still writing, I give shelf space only to writers whose books I know I will reread many times — which means they have to be exceptional authors whose stories I never tire of reading, and who inspire me to work harder at my own novels. One of these very rare souls is Marjorie M. Liu.
I can honestly say that from the first time I picked up and read one of Marjorie's novels, it was all over for me. The author had a poetic writing style that enchanted me and involved me and spoke to me on so many levels that I knew I'd be rereading her books every time I needed to be reminded why telling stories is an art as well as a job. Then last year Marjorie published The Iron Hunt, the first novel in a new series that completely blew me away on the first read, and has since haunted me for the last twelve months.
I can talk about the reading experience all day, and I will if you let me, but I also think the author is a great storyteller from the nuts and bolts aspect of writing. Marjorie is doing amazing, epic things with urban fantasy that simply aren't being done — and I think they should be, which is why I give away her novels to other writers. At times when I'm reading these books, she scares the bejesus out of me, because while I'm enjoying the story I'm also seeing the technical work she's done, and it's stunning. She raises the bar for all of us.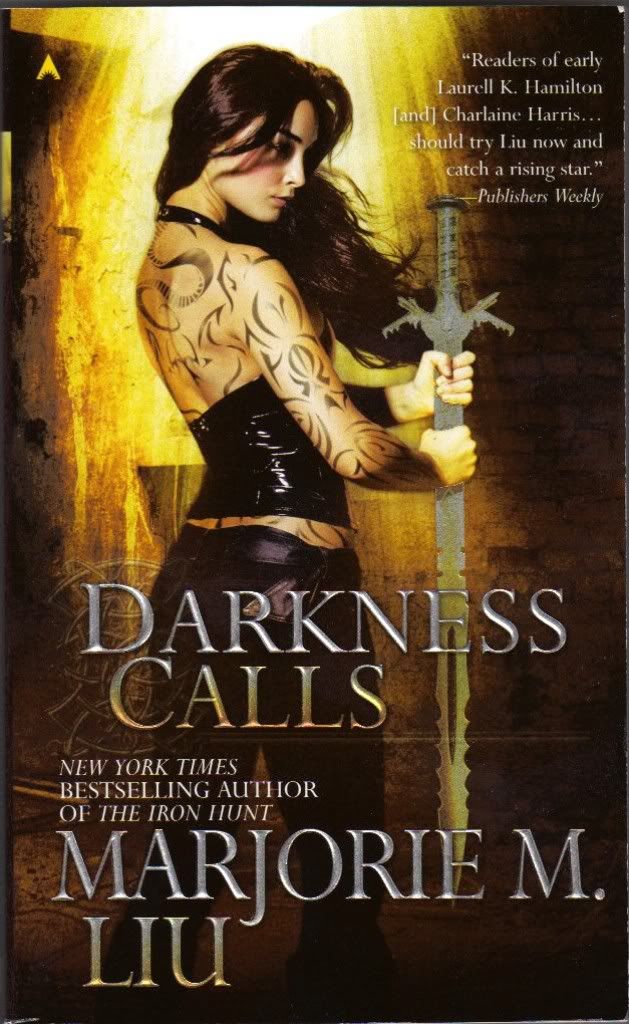 Next week the second book in the Hunter Kiss series, Darkness Calls, will be hitting the shelves. To give you a little run down on the story, demon hunter Maxine Kiss is back with her boys, a small horde of protective demons who spend the daylight hours living on her body as tattoos. After the sun sets, the demons leave her skin and come alive to fight by Maxine's side.
In this novel the boys have a lot of protecting and fighting to do, as someone wants Maxine dead — someone who also knows the only moment between daylight and darkness when she is vulnerable. But is the killer trying to get rid of her, or use her to get to her man Grant Cooperon? Grant, an ex-priest demon reformer with a mysterious past, has powers unlike any Maxine has ever encountered — and she'll need everything he has and more when they discover exactly what is after them both, and why.
Marjorie is writing all sorts of things these days — manga, paranormal romance, X-men novelizations — but personally I think this series is the author at her best. There's just something incredibly special about these characters and this labyrinthine storyline. It has it all — amazing writing, hypnotic storytelling, and wholly unpredictable twists/turns — and gave me the most fun I've had reading all year.
Marjorie was also kind enough to send me some signed copies of her Hunter Kiss novels, which I'd like to share with our blog visitors here at Genreality. If you'd like a chance to win a signed set of The Iron Hunt and Darkness Calls, in comments to this post name a series or author you find it difficult to wait for (or if you're not in any hurry to read anyone, just toss your name into the hat) by midnight EST on Saturday, June 27, 2009. I'll draw two names at random from everyone who participates and send the winners signed copies of both Hunter Kiss novels. This giveaway is open to everyone on the planet, so wherever you live, please join in.