Friday, July 31st, 2009 by LViehl
Since May I've been writing in a three-foot by two-foot corner of my bedroom, mainly so we could convert my writing room into a guest room for family and friends who came to visit over the summer. Now that everyone has gone back home, I'm moving back in for the fall, and then I'll move upstairs to my book room for winter. I like to be mobile, and everything I write with is on wheels or very portable so I can easily move around the house.
But for all intents and purposes, this is my primary writing space:
I chose to keep the room as minimal and utilitarian as possible because I don't like a lot of clutter around me when I work. The choice of colors (primarily sand and sea glass) are also deliberate; to me they're muted and soothing while still reminding me of the beach, which is the one place in the world where I always relax.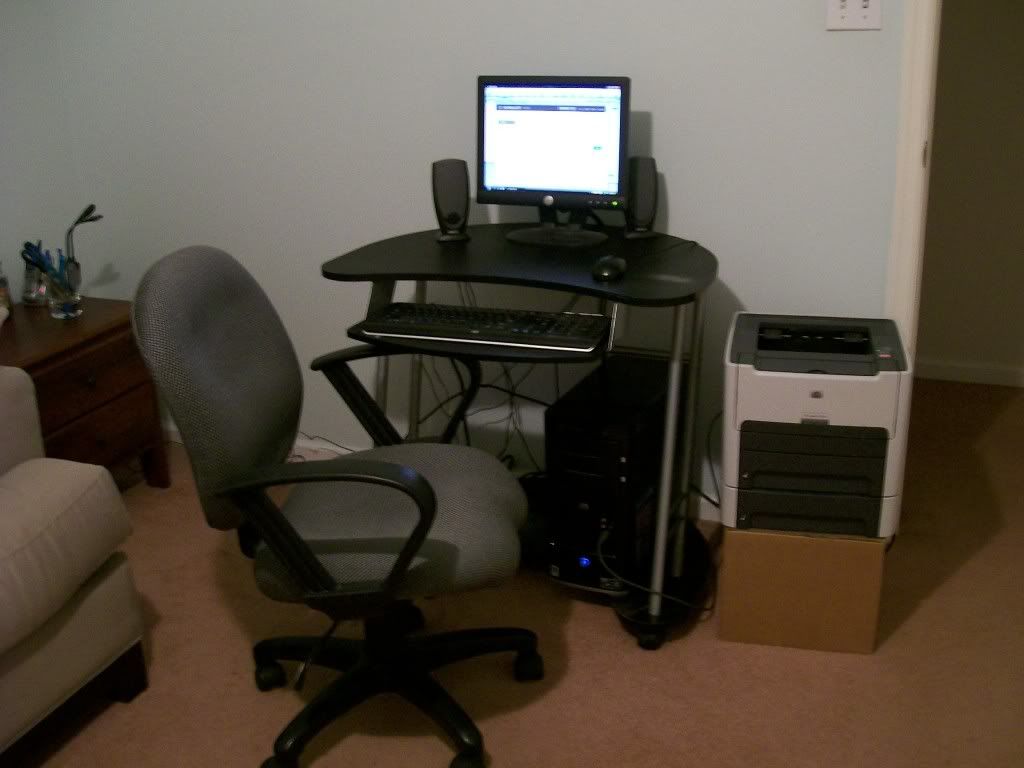 My computer station is black because it was cheap and so am I. I keep my work area clean at all times; nothing goes on the station except the computer. I face a blank wall, and while I've tried hanging things there from time to time I find a blank wall is best (or I end up staring at the stuff on the wall instead of working.) Having my back to the only window in to room is important, too; otherwise it would be too tempting to open the blinds and look outside at the trees and horses and stuff on our neighbor's property. (My work printer is currently perched on a cardboard box because I can't find a printer stand small enough to suit me and my abbreviated work space.)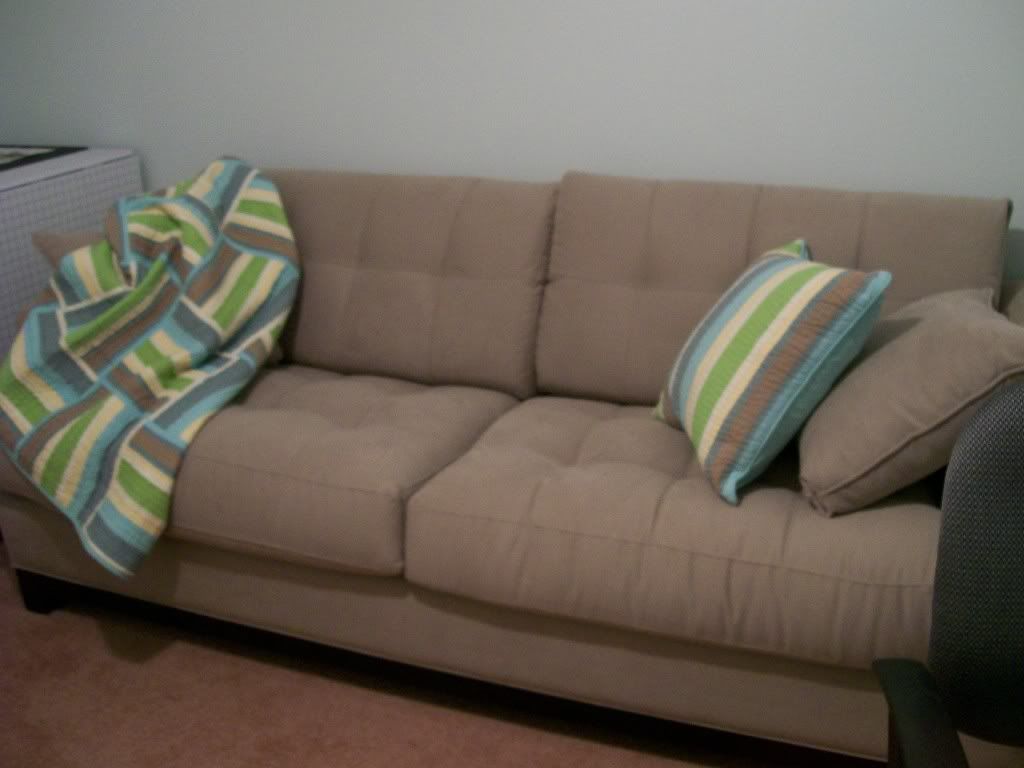 I've spent a lot of evenings on this couch editing from a hard copy of whatever new material I wrote that day. The quilt is for the floor, sometimes I like to throw all the pillows down and stretch out while I review and mark pages (again, just like at the beach.) The couch also folds out into a queen-size bed, which I have slept on when I work late so I don't disturb anyone else in the house.
This is actually a spare folding sewing table I have that I can pull out and use as a worktable. I also keep a couple of non-writing projects on it (at the moment, two pictures I'm going to frame and a couple of books I'm reading) so I have something to do when I need a break.
This is my reading/worry chair. It's a bit like a security blanket; when I feel like everything is going straight to hell I sit in it for a few minutes and either read a book or just brood until I work out whatever is bothering me.
It's not a fancy room, and I really need to hang some pictures and things on the walls I can't see from the computer station to make it a little more homey. The main thing is that the room works with me instead of against me, and often fades away while I'm writing so I'm not distracted from the work. That makes it the ideal writing space for me.
Do you guys have a favorite writing space at home or elsewhere? How have you arranged it to work better for you? Let us know in comments.